The CoLab Network presents OH, WHAT A NIGHT!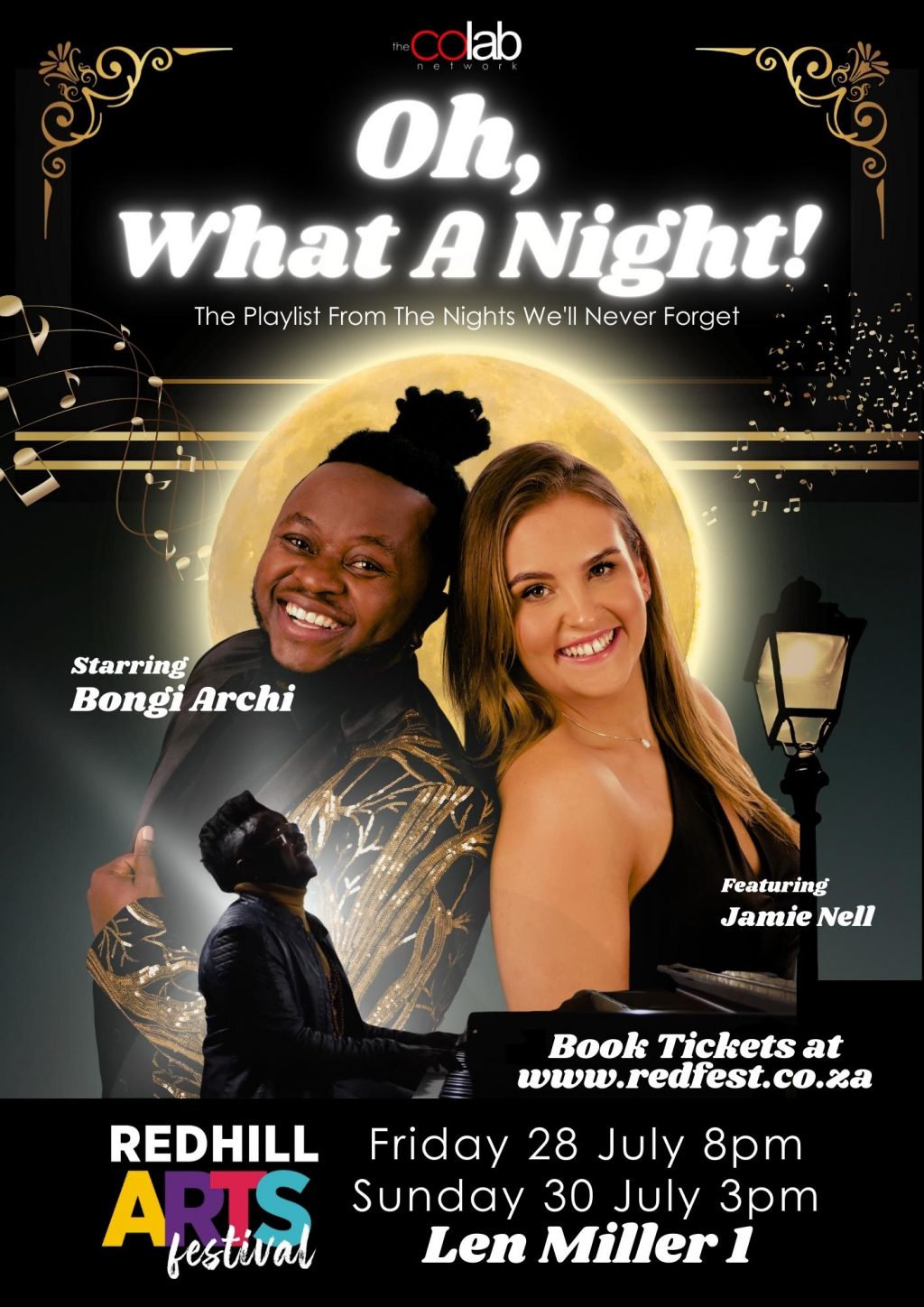 Oh, What a Night!
The playlist from the nights we'll never forget
Starring Bongi Archi
Featuring Jamie Nell
Two shows only at REDFEST 2023 – Friday 28 July & Sunday 30 July 2023
The CoLab Network is thrilled to present the brand new show "Oh, What a Night!" as it makes its dazzling premiere at the Redhill Arts Festival, at Redhill School in Sandton, for two shows only on Friday, 28th July at 20h00 and Sunday, 30th July at 15h00.
Oh, What a Night! will both charm and entertain you. Audiences will be taken on a captivating musical journey of pure nostalgia as they enjoy those instantly recognisable songs from the playlist of the nights we'll never forget.
Music has long been associated with pivotal moments in our lives, sparking unforgettable memories we all treasure. We hear a song and we immediately reflect back to that moment we first experienced it and the associated memories.
Oh, What a Night! will highlight those experiences in a 70-minute show of non-stop fun, jam-packed with hit after hit for audiences to delight in, clap along to, tape their toes to or get up and dance to.
Oh, What a Night! stars the inimitable and instantly recognisable Bongi Archi of IdolsSA, Ons Soek die Sanger and Joyous Celebration fame.
Bongi has proven time and again his versatility and popularity with audiences brought about by his vibrant and charming stage presence second to none. Those watching Oh, What a Night! will now have the added experience of seeing his skill on the piano too, not just his smooth-as-silk vocals.
Says Bongi Archi; "This show is super exciting for me because I not only get to stage a new solo show, with my first female feature, but to showcase myself on piano which many people have yet seen or experienced. This is the beginning of a new journey for me as a showman, artist as well as a performer and I'm excited for audiences to experience this new journey."
With The CoLab Network's ongoing commitment to showcasing outstanding young talent in its productions wherever possible, Oh What a Night! also features emerging talent Jamie Nell (21), recently returned from the international tour of The Dancing Queen Show, paying tribute to ABBA. Audiences will be blown away with her powerhouse vocals.
Both will astound you with their flair and Bongi's re-styled music arrangements of a diverse collection of the music greats and legends across the decades; from The Temptations to John Legend, Stevie Wonder to Billy Joel, Ray Charles to Whitney Houston, Earth Wind & Fire and more. Audiences will delight in hit songs like Ed Sheeran's Perfect, Bruno Mars Just the Way You Are, to Down Let the Sun Go Down on Me, Simply the Best and more.
Oh, What a Night! is an ideal show for audiences old and young, leaving everyone wanting more.
Oh, What a Night! is conceived by Bongi Archi and Collett Dawson, produced by The CoLab Network, with music arrangements by Bongi Archi.
Producer Collett Dawson of The CoLab Network concludes; "Oh, What a Night! will be showcasing some of our favourite artists, writers and iconic hit that we love and that resonate with us. It's been such a fun time putting the show together. The idea is to grow the show and tour it post-Redfest. We can't wait for audiences to see it!"
Oh, What a Night! will be on stage at the Redhill Arts Festival for two shows only and runs for 70 minutes with no interval, and has no Age Restriction.
Dates: Friday 28th July at 20h00 & Sunday 30th July at 15h00.
Venue: Redhill School – Len Miller 1.
Tickets are just R160 and can be booked via the RedFest Website or TicketPro.